To celebrate the beginning of 2011 and the submission of over 10,000 missions to the Design Your Own Mission database, Dutchy3010 and PatrickW have released version 6 of their revolutionary mission-creation mod. The release unveils the addition of the 'storyline' feature, allowing you to string together your homemade missions into your own rags-to-riches narrative, without any advanced modding skills necessary!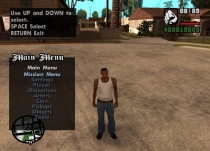 For those unfamiliar with DYOM, it enables the user to script a mission from within San Andreas. Rather than writing lines of code, you can strafe, sprint and hop your way around the San Andreas map; placing objectives, pickups, vehicles and more - all to be tied together in a mission (or sequence of missions!) that you can then upload to share with the world.
The storyline feature adds a new section to the game menu, with which you can configure the order and nature of your storyline's missions. You can add an intro and an outro to your storyline, that can be accompanied with a cutscene as in the original San Andreas. The intro is played first upon starting the storyline, after which the rest of the missions can be ordered using the new concept of mission triggers. Missions are each assigned a positional number (like an ID), and then assigned the number of a second mission that will be unlocked once this mission is completed. So if Mission3 is assigned the value of 5, Mission5 will be unlocked upon completion of Mission3. This therefore allows for non-linear gameplay for your storyline. Your storyline can be finally tied together using the outro mission, which is loaded automatically once all other missions have been completed.
Other features in V6 include a new pause screen allowing you to save, load or abort your progress, as well as some bug fixing. You can download your copy now or visit the release topic at GTAForums. Happy modding, and Happy New Year from all at GTAGarage!
Related links:
DYOM forum at GTAForums
DYOM Mission Database
DYOM Missions at GTAGarage