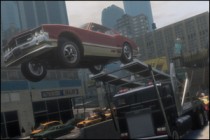 "There's no reason to become alarmed, and we hope you'll enjoy the rest of your flight. By the way, is there anyone on board who knows how to fly a plane?"
Starting this week, we'll be taking you all on a tour around the modding neighbourhood of the Grand Theft Auto community. There's mods for every kind of taste, pointless, awesome and some really weird ones. Most players go mod hunting as soon they finish the storyline, we will show you some that will give your game a huge boost of adrenaline, giving you the impression you just picked up a new game.
GTANet Annual Forum Awards 2008
The voting closes Sunday 22nd February, go vote now for your favourite mods and tools!
Featured Discussion
Lots of players have been waiting for the modders to give them usable planes, but they are almost there, with a car! If you're interested in flying yours, follow this info and the videos in that thread.
Interview
We've been talking to Jost_Vice, current leader of the project Gostown, to bring you some details on the mod. Keep reading to find out more about it.

GTAG: What is Gostown6 exactly, just a new map?

JostVice: Gostown 6 is a total conversion mod for Grand theft auto San andreas. The mod has been alive for one year, and it had changed since it started. At the moment the map is pretty big, almost like San Andreas's countryside and follows a tropical theme for the landscape, with palm jungles and a New York City theme for the city. We have replaced a big amount of vehicles with scratch made ones, which is probably the part of the mod that most people has contributed to.

GTAG: Aside from the great map to explore, will we have some missions to go with it?

JostVice: The actual beta version (The next one that will be released) has got two or three tiny missions to play with, the fact that there aren't much skilled mission coders make it harder to code missions.

GTAG: Did you include Gostown in any of the GTA cannons or is it non related?

JostVice: No... the only involved thing with GTA is the sandbox feel. The planed storyline that can be seen on our topic doesn't match a GTA storyline. Still, we would like to include some of the game-play elements, such as racing.

GTAG: How many members do you have working on the mod right now, and what are they're tasks?

JostVice: Right now we have a total of 17 contributors:

- JostVice as leader (Vehicle modeller, Map modeller, Main mod organization/planing...)
- Paroxum as co-leader/leader (Map Modeller, organization and planing)
- Pinky (Vehicle modeller, mission coding)
- Vaderios (Graphic artist and planer)
-- Contributors --
- _6mik_ (Handling editing)
- Mark (Vehicle modeller)
- Acoustik, UZI-I, mordecki and Raycen (DLL coding and mission coding)
- Fredskin, Dabeast, Dizturbd (Map modellers)
- Marfi, Karol, Rodrigp (Vehicle modellers)
- Tripleas (Ped modeller)

I hope I didn't forget anyone.

GTAG: Why a tropical island? Is there any other motive than having a good looking map?

JostVice: We wanted to do something different to any other GTA mod, and chose a tropical theme... which is also beautiful!

GTAG: Do you have any plans to port this into IV in the future?

JostVice: It would be definitely a dream coming true, but it wouldn't be possible if we ported it, we couldn't just do a port. The map and vehicles will need to be remodelled to match GTA:IV's quality and with the actual number of members in the group... it would take some time.

GTAG: What problems or limitations have you encountered when working with SA?

JostVice: There are problems, yes, maybe the most noticeable one is the streaming memory limit (64 MB if I remember correctly) that was increased using Sacky's SA limit adjuster increasing this limit allowed us to use more HD textures, wich means, more quality for the mod. Another problem, maybe not known by people, is the fact of that SA doesn't have any SDK, and we have to work using non-official tools, the work that has been put by the authors of these tools is incredible, and we love them, but using them sometimes end up in bugs.

GTAG: For the readers that I'm sure that are willing to give a try right now, what's the specs you recommend to run this mod?

JostVice: The recommended specs are a bit higher than SA's default ones:

Intel 2GHz dualcore, 1GB RAM, ATI X1800 or NVIDIA 7800 (All series) and 800MB free on hard disk. For all the rest, look at default SA specs.

GTAG: You were talking earlier about new vehicles, how many are they and which ones?

JostVice: We've replaced a high number of vehicles, sports car, muscle cars, normal poor cars, trucks or even airplanes.

GTAG: What is EVA?

JostVice: Eva is the new character, replacing CJ. We have planed a storyline that involves Eva as a assassin that will have to eliminate some targets in the paradise, getting different rewards as properties or new vehicles.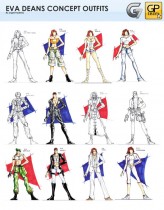 If you wish to follow the team's progress you can do it right here.
Featured Video