Hey, can somebody help me with this mod? I have the white CJ mod and Raoul's head but the neck and hands of the patchwork jacket are black :| no problems with the other clothes but, please, help!
And that, i think was the handle- that sense of inevitable victory over the forces of old and evil. Not in any mean or military sense; Our energy would simply prevail. we had all the momentum; wde were riding the crest of a high and beautiful wave. So now, less than 5 years later, you can go up on a steep hill in las vegas and look west, and with the right kind of eyes you can almost see the high water mark- that place where the wave finally broke and rolled back.

just found this skin and absolutly love it, am a massive fan of Hunter S Thompson. this is brill gonna av to download this and av a blast an SA. Is there anything similar for GTA4.

Loman
commented over 18 years ago:
I made
Raoul Duke's Head
, it's been on-site for a while now. It doesn't make his hands white, but you can just download a white skin mod and cut & paste the hands and stuff
Makitk
commented over 18 years ago:
Make Johnny Depp!

Make Johnny Depp!


I mean: White skin..

Nice photoshopped screenshots.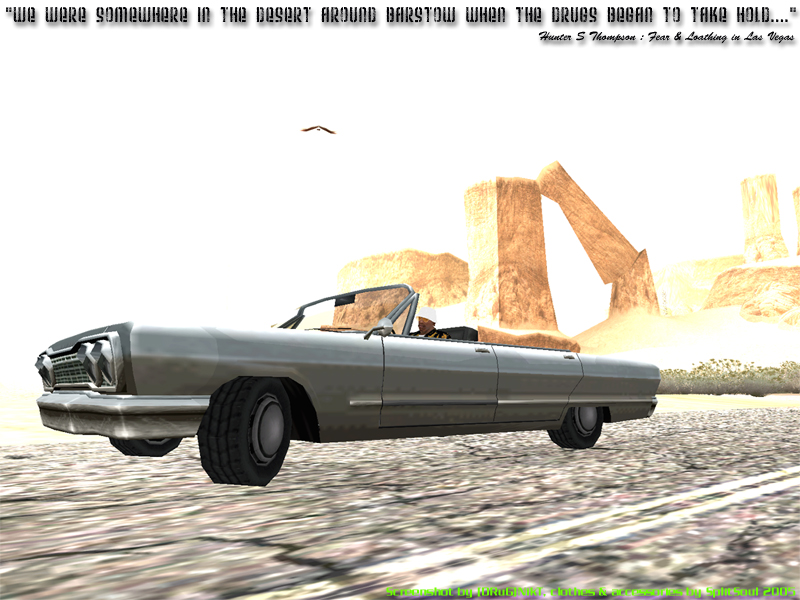 ON WITH THE DUKE I SAY!
(Hunter quote... the man rox... seriously)
View All Comments | Add Comment